ANNUAL RETAINERS.
ALL THE LAW YOU NEED
We believe that lawyers can – and should be - trusted advisors too.  One of the major barriers to this is that most law firms are geared to transactional 'once offs' engagements, with fear of fees, extensive scoping and engagement processes reducing access to advice when it is needed.
Like trusted advisors in other professional disciplines, Law365 recognises that peace-of-mind is provided year-round, not in one-off engagements.  It is common for accountants, financial planners and others to use annual pricing and engagements to increase access and reduce fee-fear.  Law365 channels that traditional retainer model for modern business-lawyer relationships.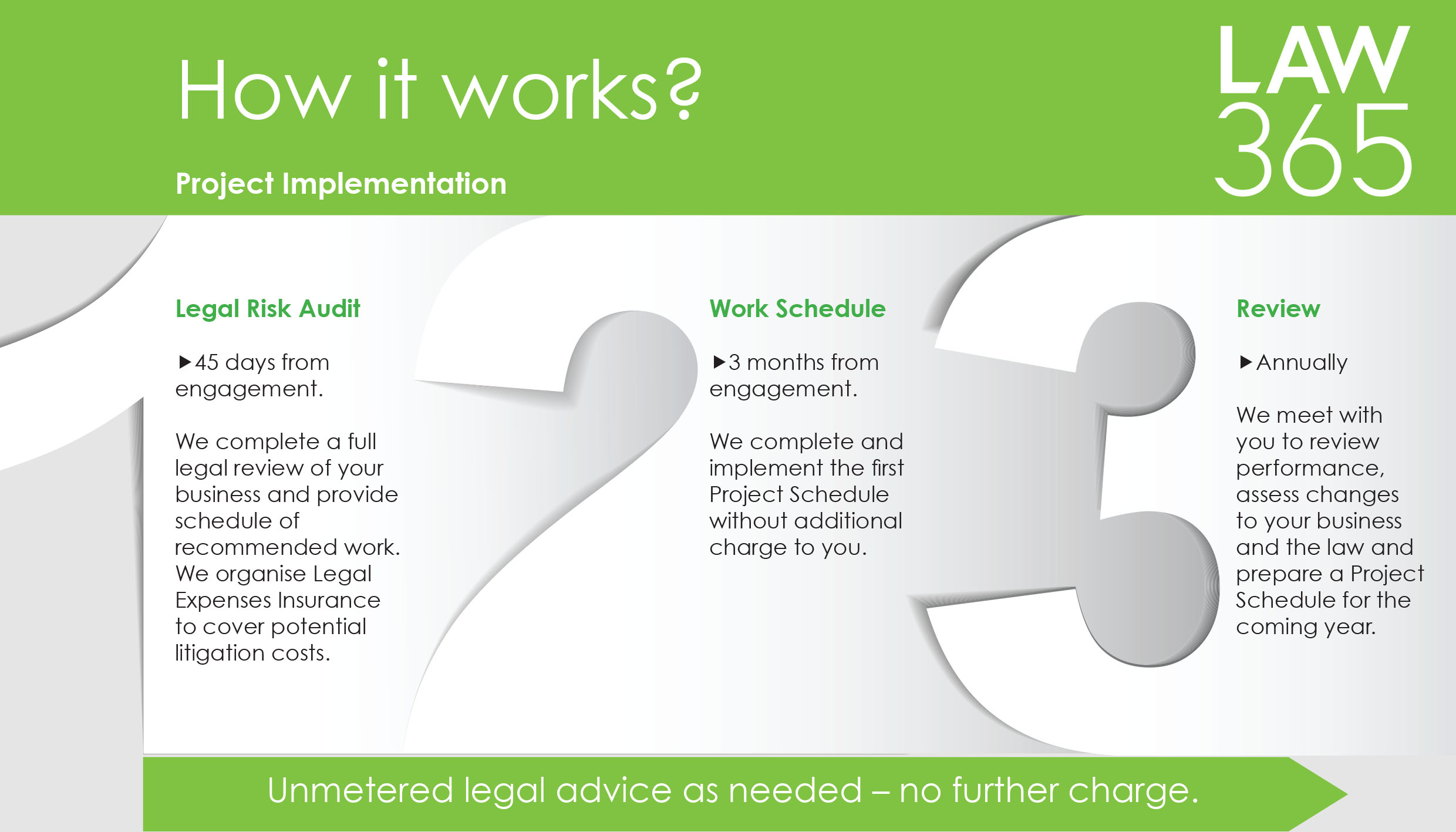 We made sure that we give only the best service for you. Choose on our designed plans below.
Get the peace of mind knowing that your lawyers are only a phone call or email away without further charge. Leverage off our Law365 documents and internal training.

Adviceline calls to our lawyers with follow up email assistance.

Initial document reviews.

Access to internal training and template legal documents.

Genuine reduced rates at fixed-fees for further 'as-needed' legal services.
Our most popular Law365 retainer providing a broad range of legal services at a competitive fixed-price.


Annual review of changes to the law, essential legal documents and processes and stakeholder documents

Human resource and employment law support including production of employment agreements, policies and induction
A complete legal service at our highest level. Includes litigation services and bespoke legal service delivery for larger clients and high-use industries.

Advisory and In-House Levels plus

Priority access to Director's and key staff.

Internal training and process implementation.

Litigation (Outward and Incoming)
Businesses that we have helped
Here's a small selection of businesses we've helped achieve great outcomes.